January 18th, 2012 | By admin
Tiny Toones performance troupe is back from Australia. Jan 8th-18th 2012; Eight dancers (Homie, Fresh, Diamond, Slick, Flex, Tra, Kha, and Tou), three rappers (Beaver, Vouch and Ya), plus founder KK and Management Advisor Romi spent ten days in Melbourne, enduring its famous crazy weather from feeling freezing cold, to spending hot days on the beach.
The Tiny Toones crew choreographed a 90 minute performance under the guidance of KK showcasing their true lives of  growing up on the streets of Cambodia in a post-Khmer Rouge era. Tiny Toones performed five evening FULL HOUSE shows at Chapel off Chapel theatre in Prahran, as well as two matinees and held a dinner fundraiser at Bopha Devi Cambodian restaurant. The crowds were warm and enthusiastic and each show ended with everyone up on their feet.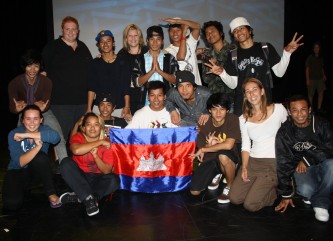 Tiny Toones dancers workshopped and battled with Bboy Nasa (Australia) and crew and Bboy Katsu (Japan). All footage is up on youtube and linked to our website.
Tiny Toones rappers workshopped with Elf Transporter (rapper) and Monkey Marc (music producer), freestyling and rapping to some funky beats. Footage up on youtube and linked to our website.
Media madness began as Tiny Toones hit Melbourne with a bang. We were interviewed on television by Dylan Lewis on Channel 10 (The Panel) and the Australia Network channel, on radio with ABC Radio Australia and ABC Khmer radio and had a write up in The Age.
In our down time we went to the Zoo to finally see some kangaroos, went in small 4-person aeroplanes over the city of Melbourne and walked the red carpet at a movie premier.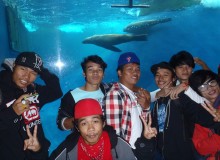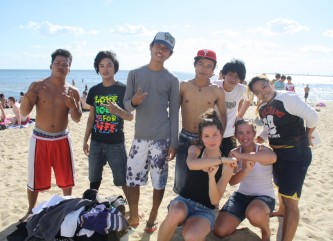 Thank you to all those who helped put on the show and to those who attended and supported us!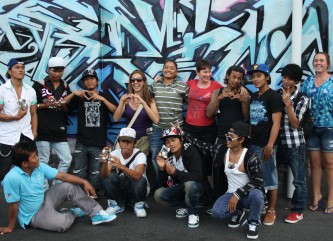 Please go to the photos and video section for more.