"I dropped out of school at grade 8. I wanted to study and I was always asking my parents and my sister but they could not afford it. Tiny Toones helps me and my friends. I have learnt so many things I didn't know about. They helped me to go back to school."  – Erak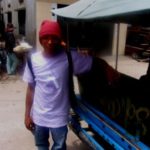 Coming from a poor background, Erak first approached Tiny Toones founder KK because he wanted to learn to dance and he has certainly done that. He's danced on national television and at a dizzying array of events in Cambodia.
Given these achievements it is no surprise to find that his ambitions continue to grow also:
"I want to compete with dancers from other countries and show them that the Khmer can break-dance too. I want to match the best and become famous. And I want to be a scientist."
At Tiny Toones Erak also learnt to drive a tuk-tuk and has worked for us bringing other kids to the centre from the slum areas of Phnom Penh. When he's not at Tiny Toones he still helps his mother to sell food on her street stall. He also works as an international performer and recently took part in a show in Australia.
 "Tiny Toones is special because it serves children free of charge and provides an education for vulnerable kids. Because of Tiny Toones I have a better future and more opportunities: to go to school, to dance and to teach other kids to dance too."