"If I didn't get the chance to produce music, I wouldn't be able to sit still. My thing is to make beats. My mind keeps hearing them." – Voch
Always a mischievous young boy, Bou That Say Dech earned himself the nickname Voch (Khmer for naughty) at a young age. He was a cheeky boy with a love for rapping and music but no creative outlet in his life. Not having gone to school as a teenager, he became involved with drugs when he was pressured to try things by his friends after falling in with a bad crowd. He disobeyed his parents and because of his drug use they had no idea how to help him and wanted him to leave.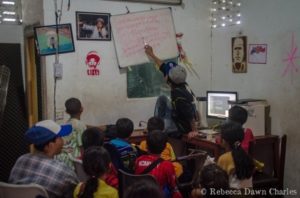 One day a known Cambodian DJ came across Voch and brought him to see KK. KK saw his potential so he took Voch on, mentored him through his drug problems and he has taught rapping and music production at Tiny Toones. His skills are growing every day. Voch has performed internationally and is responsible for creating all the beats on the Tiny Toones album Anakut.
To see Voch talk about his life and how Tiny Toones changed everything check out his video.