Tiny Toones Annual Report 2012 
In 2012 Tiny Toones moved our drop-in centre to a fantastic new location where more children than ever before were able to attend classes in creative hip-hop arts and non-formal education. Other highlights included unforgettable tours of Melbourne, Australia, and Auckland, New Zealand, and being shortlisted for the UNICEF Sport for Education Award at the Beyond Sport Awards in London.
We'd like to thank everyone that supported us in 2012. You can read all about our activities and achievements – as well as KK's reflections on the year – in the Tiny Toones Annual Report 2012.
Tiny Toones Annual Report 2011
2011 was another great year for Tiny Toones, beginning with a performance at the prestigious 'TEDx' event. This was the first time the dancers and rappers had performed in one play together and the first time they had choreographed their own dance routines to tell their personal stories on stage. TEDx was a special experience and it was great to see them learn how to really express themselves and grow, both as people and as artists.
To find out about Tiny Toones achievements and activities during the rest of 2011 read the Tiny Toones Annual Report 2011.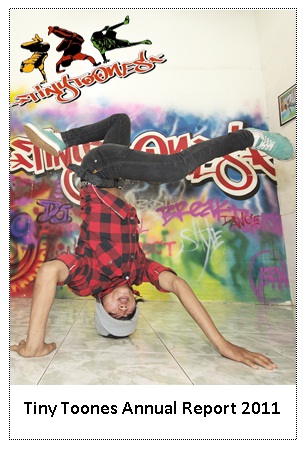 You can also read our Annual Report 2010.